Robson Snowshoes: Traverse Winter Terrains with Precision & Style!
Translation missing: en.products.product.price.regular_price
$100.00
Translation missing: en.products.product.price.sale_price
$100.00
Translation missing: en.products.product.price.regular_price
$166.00
- Dimension: 9" wide x 25" long or 9.5" wide x 30" long
- New CSM Decking technologies improving decking strength compared to plastic decking
- AltiStep Heel Piece facilitating ascension
- QuikClip fixation system to allow adjusting easily with gloves
- Ergonomic Shape and Strong Aluminium frame
- Toes & heel claws for better grip
- Snow-repelling, lightweight and durable

***Our snowshoes are of the hiking snowshoe type and therefore to be used with winter hiking boots. It is normal that big winter boots and/or doo ski boots of 10US and more may not fit in the bindings, because they are not the boots for practicing this sport.
- 1 pair of snowshoes
- Travel bag with incorporated pole holders
All of our products are covered by our free limited warranty. If your item breaks due to a manufacturing defect, during this period, we will repair or replace it free of charge. If your item breaks after this period, we will send you a replacement part or repair it at the best cost.
With over 8000 clients in Canada. We have an overall of 5 stars review for our businesses The Wild Tribe & Quebec SUP.
https://en.quebecsup.com/pages/avis-clients
We have developped partnership with the best carriers in North America to give you the cheapest shipping possible!
Outdoor equipments can be large and hard to ship and we have made it easy and affordable for our clients through exclusive partnerships. We can get your products to your door in a short time at the best possible price. We have a super fast processing time of 48 hours maximum and a 2-7 days shipping time for most of the places in Canada and US with time depending on your location from the warehouse.
Robson Snowshoes: Traverse Winter Terrains with Precision & Style!
Embark on exhilarating winter expeditions with the confidence that only Kootenay Snowshoes can provide. More than just a pretty facade, these snowshoes are engineered for endurance and optimal performance.

Key Features:

Stylish Design: Stand out and leave a lasting impression on snowy trails.

Robust Construction: Meticulously crafted with a resilient aluminium frame, ensuring these snowshoes are built to last.

Innovative CSM Decking Technology: This state-of-the-art tech ensures versatility, letting you transition effortlessly from tranquil winter strolls to challenging mountain adventures.

Climbing Bars: Conquer every ascent with ease! Our integrated climbing bars simplify uphill climbs, giving you an edge in challenging snowy terrains.

Whether you're exploring untouched snowfields or ascending rugged peaks, the Robson Snowshoes are your trusty companion, turning every journey into an unforgettable adventure."

This version emphasizes the unique selling points, focusing on design, durability, and performance in varied winter terrains.
Choose the size of your snowshoes
1. Total weight with equipment
The recommended user weight for snowshoes does not mean the standard weight. You have to consider the sum of everything your snowshoes will have to carry. This include, but is not limited to, yourself, your clothes, your boots, your filled backpack, etc. This is something to consider when choosing the right pair of snowshoes to use.
2. Follow the size chart
The size chart shown represents the ideal and correct total weight capacities according to the size of the snowshoe for our 3 models of The Wild Tribe snowshoes.
3. Snow conditions
It is obvious that better flotation is required in freshly fallen powder than in compacted, heavy snow or on a well-groomed trail. You should therefore take into account the type of snow you will face during your expeditions. If you usually snowshoe in compact snow or on groomed trails, you may want to choose a smaller pair of snowshoes for your weight versus off-trail use or in soft snow and powder.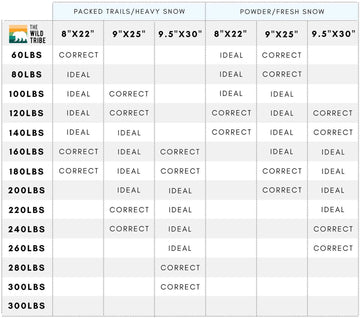 Redesigned for the harsh Canadian winters
New CSM Decking Technology
Materials are affected by extreme temperatures, and so is the plastic used for snowshoe decking. Plastic becomes brittle and weak when exposed to cold due to the molecule of plastic losing elasticity. This is the number one reason why we see a lot of breaking decks on plastic snowshoes.
So the developing team at The Wild Tribe™ has rethought & reinvented the product to be properly adapted to the environment in which it is being used by incorporating CSM technologies to the decking.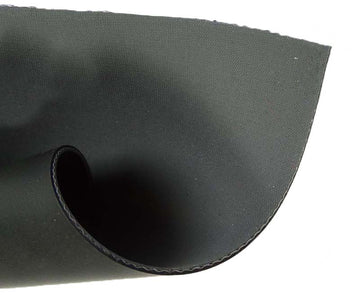 Advantages of CSM
- Unaffected by extreme temperatures
- It doesn't get brittle and deteriorate over time.
- Better abrasion and impact resistance
- Longer lasting material
- More Supple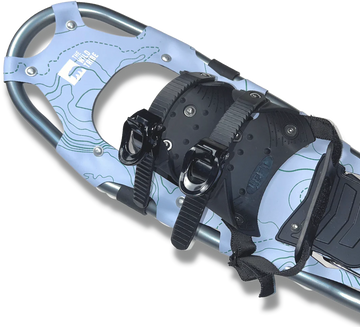 Improved Traction
2 sets of claws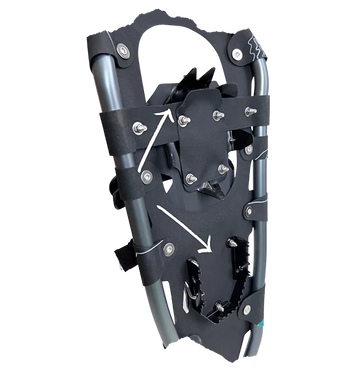 Ascension heels
Ready for the mountains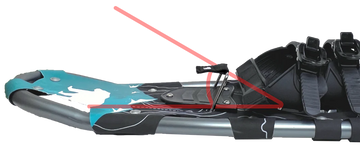 Pour l'instant, elles sont belles
Au vue de la saison, c'est un peu difficile de les noter ;) pas utiliser encore, mais super belles! reçu en 24h! Exactement comme l'image.
Attache pas assez longue
J'avais des botte de randonnée et j'ai un peux de misère à attacher mes attelages sinon elle sont super vraiment satisfait
Allo Eddy,
L'attache du talon fait pour des bottes jusqu'à 13US.
Il est normal qu'avec une botte plus longue, le velcro ne se rend pas. En fait, à cette grandeur de pieds, l'excès de sangle n'est pas assez long pour être encombrante et on ne l'attache donc pas avec le velcro :)
sangles
J'aime bien les raquettes, par contre, les sangles arriere sont trop courtes et les attaches prets des chevilles avant sont aussi un peu courte.
A-t-il moyen de les alonger???
Marcel
Allo Marcel,
L'attache du talon fait pour des bottes jusqu'à 13US.
Il est normal qu'avec une botte plus longue, le velcro ne se rend pas. En fait, à cette grandeur de pieds, l'excès de sangle n'est pas assez long pour être encombrante et on ne l'attache donc pas avec le velcro :)
Raquettes
Notre achat de raquettes pour moi et mon conjoint est un moyen de sortir dehors on n aime pas vraiment hiver mais WoW les raquettes sont légères
Raquette Robson
Très bonne raquette, légère et facile a mettre