5mm Yamamoto Neoprene Surf/SUP Boots
Translation missing: en.products.product.price.regular_price
$54.00
Translation missing: en.products.product.price.sale_price
$54.00
Translation missing: en.products.product.price.regular_price
$67.00
-5mm limestone-based Yamamoto Neoprene
-Galvanized sole
-Ajustable strap
-Eco-friendly
All of our products are covered by our free limited warranty. If your item breaks due to a manufacturing defect, during this period, we will repair or replace it free of charge. If your item breaks after this period, we will send you a replacement part or repair it at the best cost.
With over 6000 clients in Canada. We have an overall of 5 stars review for our business The Wild Tribe & Quebec SUP.
https://en.quebecsup.com/pages/avis-clients
We have developped partnership with the best carriers in North America to give you the cheapest shipping possible!
Outdoor equipments can be large and hard to ship and we have made it easy and affordable for our clients through exclusive partnerships. We can get your products to your door in a short time at the best possible price. We have a super fast processing time of 48 hours maximum and a 2-7 days shipping time for most of the places in Canada and US with time depending on your location from the warehouse.
5MM WETSUIT BOOTS
Don't forget your little feet! They are the first ones to be in contact with cold water. Imagine being able to easily face colder waters and increase your time in the water. Well, it's not as complicated as you might think with our eco-friendly wetsuits boots from The Wild Tribe.
SIZE CHART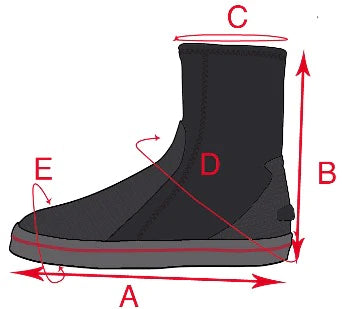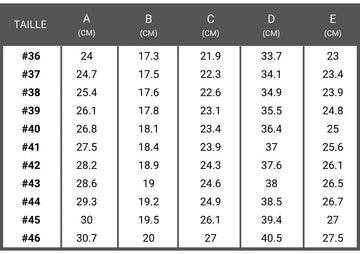 A wetsuit should fit like a second skin. It should fit snugly so that there is only a thin layer of water between your body and your suit. This thin layer of water warms up and prevents your body from losing too much heat when you are in the water. If your wetsuit is loose, some of the cold water will pass through, making the wetsuit less effective at keeping you warm.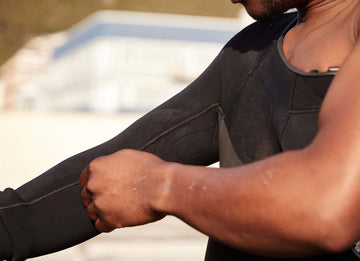 Technical specifications:
Specifications:
- Neoprene thickness: 5mm
- Adjustment strap

Components:
- High quality limestone-based Yamamoto neoprene eco-friendly & durable
- Galvanized sole
Integrated technologies
The main component of neoprene is still chloroprene, but instead of using petroleum-based ingredients, our wetsuit uses calcium carbonate from limestone. The elongation, flexibility, and insulation characteristics of limestone neoprene are the same or better than its predecessor, petroleum-based neoprene, but are much less harmful to the environment 🌱

Our wetsuits are also made from the highest quality rubber technology, YAMAMOTO:

YAMAMOTO rubber is a high-quality, warm and flexible foam rubber made from limestone. It has been used as wetsuit material by triathletes, swimmers, snorkelers, surfers, underwater fishermen and divers around the world, and also as orthopedic support for humans and animals. https://yamamoto-bio.com/material-e/
5 stars review pour cette équipe de feu
No joke , vous offrez un service impeccable que ce soit avant la vente comme après la vente . Des employés/proprio down to earth et easy going .
Pour ce qui est des surf boots , je les ai testé et elles sont parfaite . Qualité , fitting et look A1
Nous avons de multiple items provenant de chez Quebec Sup et tout est de qualité . Je recommande votre compagnie assurément ✌🏽
Bottes wetsuit
Super confortable ! Hâte de l'essayer dans l'eau
botte wet suit 5mm
elles sont tres belle et confortable. la taille me fait a merveille. je les conseille fortement
Grandeur parfaite, belle qualité de produit